3 Ways to Meet God in the Waiting
Every story has a season of waiting and perhaps it shouldn't have surprised me when mine was longer and harder than I expected.
I felt the marks of time. I could follow them by counting my nieces and nephews who were born like clockwork. By each Christmas there was a new baby in our family photos, but it was never mine.
Waiting can include joy, I found, because I delighted in those babies. But it's also hard and painful and sad.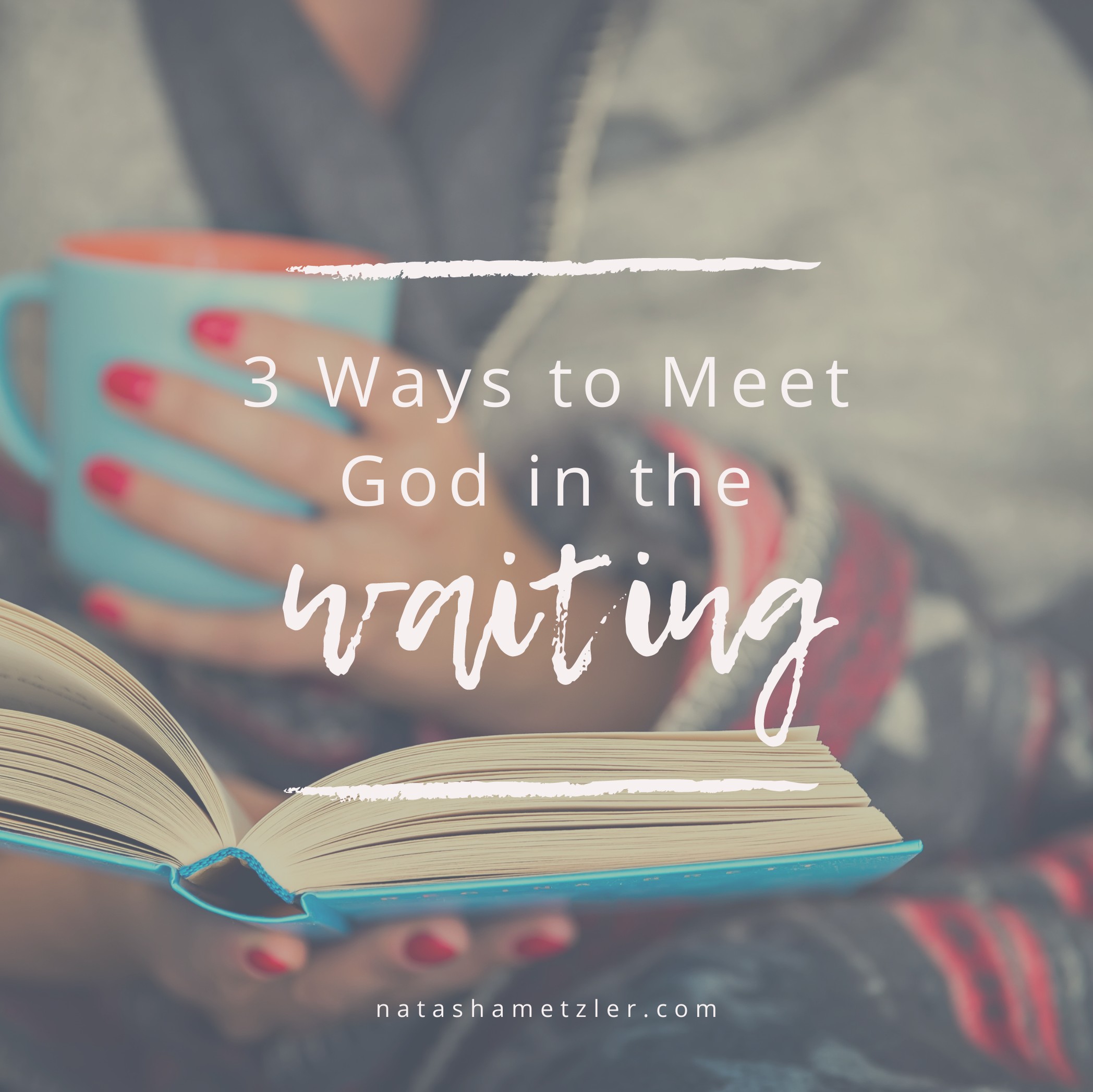 What I didn't realize at the beginning was how deep God was willing to go with me. How He would wade right into the miry waters of this extended season right beside me and be everything I needed, long before my circumstances changed.
He had a reason for teaching me to know His presence right there in the waiting.
He knew, of course, that after years passed we would bring home an adopted daughter, then an adopted son. He knew long after I assumed my body would never bear a child, I would miraculously give birth.
But He also knew that there are always seasons of waiting. As soon as one ends, another comes.
In fact, when we stop and look, we realize our lives can be marked by waiting.
Waiting to grow up, waiting to get married, waiting for jobs & houses & friendships & children.
Waiting for deeper things too. Like doctors' reports and salvation for people we love and justice for those who have been mistreated.
Waiting for hearts to be healed and lives to be restored and even waiting for the last breath of a loved one.
And if we can't know Him in the waiting, can we ever really know Him at all?
I can tell you, friends, from intense experience, that He is here in the waiting.
I can tell you with stories from my own life that He can be known.
He can be known through infertility, even when the years turn into a decade and longer.
He can be known when the waiting is punctuated by miscarriage and loss.
He can be known through the endless cycle of adoption paperwork.
He can be known through the wait for adopted children to bond and attach to their new family.
He can be known even through the moments of waiting at the deathbeds of babies and grandparents.
The list is endless and goes far beyond my personal struggles with death and infertility and the trauma of adoption. It goes all the way into your place of waiting– the spouse, the job, the answer, the moment– whatever your wait is:
He can be known, period.
Here are three simple ways to know God in the waiting.
1. Determine to seek Him.
Over and over in Scripture we are told to seek God.
(Psalm 105:4, Isaiah 55:6, Amos 5:6, Jeremiah 29:13, etc…)
What does that mean?
There are two Hebrew words that we translate seek. The first word, "darash" means to search carefully for something. The second "bakash" means to request something desired.
Seeking comes in two parts. Looking carefully and requesting.
While you are waiting, determine to look carefully for God and continually request His presence.
It doesn't matter how deep or dirty or painful or heartbreaking your position is, He's there.
And He can be known in the waiting.
2. Listen closely for the Lord's voice.
In Psalm 27:11, David asks the Lord to teach him and lead him. In John 10 we're reminded that God's sheep know His voice.
Regardless of your personal beliefs about how the Holy Spirit speaks to us, there is no question from Scripture that the Spirit does, indeed, speak.
While you are in your season of waiting, take time to cultivate a listening heart.
If you struggle to know how/when the Lord is speaking– read Scripture. Read the Psalms. Read the gospels. Read the minor prophets.
Get to know the cadence on the Lord's voice revealed in the Bible and you will know how to listen for Him outside of your reading time.
3. Give thanks for the gifts you already have.
Naming our gifts, counting our blessings, giving testimony…
Call it what you will– the Spiritual Discpline of giving thanks is a vital concept in Scripture.
Besides the majority of the Old Testament, there are instructions to give thanks in Ephesians, Philippians, Colossians, Thessalonians & Hebrews.
Learning the art of identifying the Lord's blessings can be life changing. It will turn the anxiety of the waiting season into peace.
In the darkest and hardest points of waiting, the practice of naming gifts is what has splintered light back into my life.
In Proverbs 3:6 we're told to "acknowledge him" in all our ways.
In giving thanks, we are acknowledging the Lord's presence. Even if this place of waiting feels empty and hollow– it is not all the places.
God is still near.
No matter the circumstances, no matter the sorrow, no matter.
And here is my heart's cry for you:
That no matter what identifies your season of waiting, you will learn to know this endless truth: Jesus is beside you.
May you seek Him, hear Him, and acknowledge Him in your life.
Today while you wait, and every day after.