How to Find Breath When You're Drowning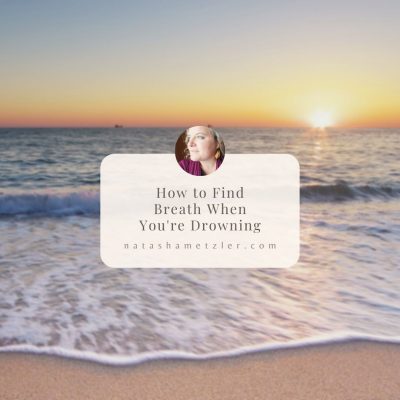 Every month the list got longer.
I wanted a baby so desperately and when the years of infertility started marking up my life with sorrow and loss and sadness—I was determined to do everything within my power to change it.
My diet. My doctor. My daily life.
Each month I worked at more, hoping to see the one change I wanted most of all: a pregnancy.
But despite my most determined self-effort, what I longed for most stayed just out of my grasp. Like I was running a race and the finish line kept moving further and further ahead the faster I ran.
I was out of breath and out of hope and out of faith.
Psalm 46:10 says, "Be still, and know that I am God." (ESV) And I dutifully added this instruction to my to-do list. Sit quiet, I would tell myself, and pay attention to who God is. Maybe this would be the key to fixing my body and my dreams and my everything?
But then one day I started studying the Hebrew word that is translated here as "be still". It's a verb that has nothing to do with being quiet and everything to do with relaxing and letting go. In fact, one of the definitions is the word "sink", like you're grasping onto a mangled broken board in the middle of the ocean trying to keep from drowning and God is whispering, "Let go, dear one, allow yourself to sink and you'll know that I'm God."
At first glance it feels crazy. You can't let go! You'll die. If you sink below the water, you'll never be able to catch your breath.
Yet, there is a promise mixed with this instruction. A calling to trust.

Relax, the Father says. Rest. Stop striving. Stop fighting. Let go. I am God and I am everything you need.
I had to pry my fingers off that board—the endless lists of things to do to fix my barrenness—and force my own surrender. It really did feel like drowning. Like I was gasping for breath and catching mouthfuls of water instead.
I stood beside my husband one day and sobbed out the agony of letting go of my determination to fight infertility with all my time and money and attention—and accepted that I was not the one who could save myself. Either God would change this for me, or it would remain unchanged. But did I believe that He was everything He said He was? That He would be enough, that He would be God—even if I never bore a child?
Be still, and know that I am God.

Wait, child, and know that I am God.

Sink, my daughter, and as the waves crash—know that I am God.
At one point during my infertility journey the thought of five years without a baby nearly broke me—but I faced the very thing I feared the most and I survived. Not just survive, but I discovered that the goodness of God is available in the most barren of places. He did everything He said He would and I walked through more and more years until over a decade of barrenness was behind me.
Over a decade of facing my worst fear became over a decade of knowing God in a deep, abiding, brilliant way. I discovered joy and hope and more faith than I could have imagined.
Letting go, sinking, waiting—being still—didn't leave me drowned. Instead, God gave me hope and life and breath.
Wherever you are, friend, know this truth: God is exactly who He says He is.
And when He tells you to let go, He'll always be there, arms outstretched. You might choke, you might cry, you might hurt—but you'll breathe. You'll survive. Because He is enough.
Always, always enough.