Journey Through Barren Land
Rhonda Freed has been such an encouragement and example to me as I've walked the road of infertility. I know you will be blessed to hear her testimony. In 2011 she wrote the following piece and the post script at the end is what happened last year in their family.
My testimony is not about bad actions or choices. It's not about living bad or being bad or bad things done to me. In fact, my testimony should be mostly about good. I've had a pretty good life; a wonderful family, happy childhood, a comfortable marriage to a faithful man.
Not only has my life been mostly good but I've also always found it pretty easy to be good. Good daughter, good Christian , good citizen, good example.
Then came this trial of infertility.
The Biblical word is barrenness and I found it to be a very appropriate word. Infertility is a dry, brittle, lonely, unproductive wasteland. It is hard to find any good in a barren landscape. Friendships dry up. Stacks of disappointing months add up to irreplaceable years. Hopes are vaporous mirages, ever on the horizon but never producing reality. Prayers are whittled down to desperate pleas for that out-of-reach Hope-denied.
Infertility is a major, life-altering, on-going desert.
And for me, I found that while trudging through this Valley of Death, this trial called infertility, it is also very hard at times to be good. Depression weighed down my desire to do the right thing. Sorrow clouded my view of anything beyond my current shroud of pain. Jealousy of those with pregnant bellies and multiple babies made me bitter and isolated me from activities and relationships.
Having a baby was such an intense life-long desire for me. Being a MOM such a predominate part of my Life Goals. Plus, at the core of who I am, my greatest strengths and sources of deepest fulfillment and even my multiple years of involvement in DayCare, babysitting, and camp counseling, had all prepared and molded me for a calling that I found continually being denied me.
In short… Infertility was, I think, the greatest crucible I personally could have endured.
The spiritual crisis that infertility created in my life, dried up the reserves I had to be good on my own. I was already a Christian but I truly encountered my ongoing need for a Saviour on a whole new level.
The unanswerable WHYS of infertility drove me to contemplate and accept that the Mysteries of God will forever remain beyond my ability to grasp, explain or understand – – and that's okay because He is God of the universe and I am not.
The unrelenting battering of infertility brought me to the point where I humbly realized that I am not required to always be able to stand upright and rise above the storms of life. I do not need to feel guilt or condemnation if sometimes, in the midst of the wind and pounding waves, all I can do is hang on to Jesus by the tips of my fingernails and determine in my heart that I won't let go.
The fluctuating rollercoaster of monthly hope and disappointment that consumed years of my life taught me the necessity of allowing for the process of grief. Sorrow is not a sin that must be squelched, purged, denied or hidden. Mourning the loss of a dream is a long road, guaranteed to be potmarked with multiple wounds, ugly scars and partly healed scabs that can suddenly and repeatedly be ripped off by many unexpected triggers.
The most awesome part of my testimony is The Miracle that I was given half way through this infertility trial. After 5 ½ years of disappointment and pain, God gave me the impossible – a trouble-free pregnancy and a baby who is now an 8 year old son, named Conrad who is constantly a blessing to me and makes my heart so VERY glad.
What many people don't seem to understand is that my infertility journey didn't end with the miracle of Conrad. Yes, I am a MOM and I am SOOO very thankful. But I never was able to have siblings for Conrad. I still mourn the children I never had. I still am sad when I feel left out of activities and life-events by not having a teenager already like many of my friends do or the multiple talented, funny, smart children ages 5-14 who would make us an average Lewis County Family with the same involvements of those around us.
Infertility, and the barrenness that went along with it, redefined me. It shaped me and my life in irreversible ways. It reveled to me some valuable lessons and truths but continues to challenge my ability to praise God in all things and still often results in my faith feeling battered and bruised.
My hope is that as I continue to heal, emotionally and physically from the problems of infertility I can continue to use this to help others. We have always been open to adoption but the cost and long emotional journey have so far prevented us from being able to make it happen. We would love to have God provide a second miracle child for us but we still wait for Him in this.
____________________________________________________________________
Post Script: 2012 was an amazing year for our family!! On January 4 we got the call that we've dreamed of getting for years. A scrapbook friend of Rhonda's asked us, "Are you still interested in adoption?" YES! YES! YES!
Ten days later, on Rhonda's 40th birthday we got another call from the birth family, "Can you come pick the baby up today?" YES! YES! YES! The next 9 months were full of the up & down rollercoaster of a private adoption. We became very familiar with the local courthouse, our attorney, several McDonald's (3 hour parental visits every week), and NY adoption laws.
Through it all we saw God's faithful hand weaving and piecing, healing and teaching. Our baby girl's name is Jensen, which means "God is gracious". We added Shiloh (meaning "gift") to that because she is "God's gracious gift" to us.
Conrad is thrilled to be a big brother!! He prayed for a baby sister every night for 5 years!
It has been an adjustment for us all to have a baby in the house again but we enjoy her so very much and are SO THANKFUL for her! That's the very short version of our year. If you want the unabridged version you'll have to wait to read the book. 🙂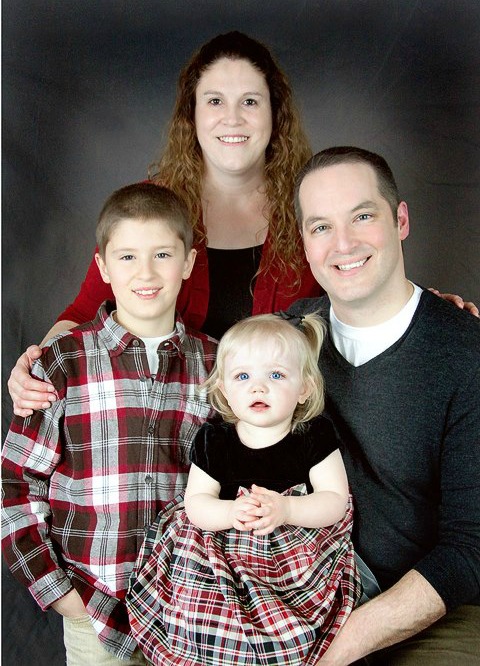 Author Bio: Rhonda Freed is a professional photographer and a full-time wife and mother. (woohoo!) She enjoys scrapbooking and hopes to one day write a book about infertility, miracles and adoption.