The Thing About Dairy Farmers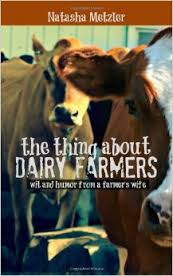 Wit and humor from a farmer's wife.
Dairy Farmers are funny creatures. They call their cows "the girls," happily discuss any number of disgusting things like afterbirth, mastitis, semen, and abscesses. Not to mention, they have a tendency to stomp around in public with the distinct aroma of aged manure clinging to them.
In a book filled with humorous stories that stretch back three generations, you'll find a sometimes funny, sometimes sweet, but always realistic look into the life of a dairy farmer.
Order Now!
About the Book
Life on a farm can be a bit hectic sometimes.
There is always more work to do and always lots of manure to deal with.
But it can be pretty hilarious too.
They say, "Laughter is the best medicine."
And if there is one thing this book will do,
it'll probably make you laugh.
I couldn't stop chuckling to myself while reading this book. I grew up on a small farm and every story in here reminded me of all the silliness and insanity that came with it. If you're a farmer, this book is for you. If you like to laugh, this book is for you. – Jessica White
If you want to…
laugh.
make other people laugh.
remember your farming days.
remember why you chose to never be a farmer.
be inspired to go buy a farm.
be inspired to NEVER buy a farm (but maybe visit your great-uncle's friend's cousin's farm once in awhile.)
enjoy sweet and sentimental stories.
and shake your head at the craziness of life
This book just might be for you!
As a pastor's daughter turned dairy farmer's wife, I learned that farming will either make you laugh or cry. To be honest, I did my share of crying… but I also learned to laugh pretty hard. And I learned that dairy farmers are a peculiar and hilarious breed of mankind.
When I began writing down my observations while waiting for milkers to finish, and spent half the time laughing to myself– I began to think that maybe other people would enjoy laughing with me. An essay turned into chapter book, a few "you might be a dairy farmer if…" questions on Facebook turned into pages of side-splitting jokes, and soon The Thing About Dairy Farmers was born.
Whether you're in farming or just an interested onlooker, you'll laugh until you cry over these personal anecdotes from a dairy farmer's wife. The "You might be a dairy farmer if…" quotes scattered throughout the book are simply priceless. – Gretchen Louise
Now, I have to let you know: if you don't enjoy talk of manure (there is a whole chapter dedicated to it, after all) or if you dislike all things animal related, or if you're an animal-rights activist who thinks farming was invented to torture all those poor creatures… this book is totally not for you.
But otherwise, I really think you'll enjoy it.
There are, of course, other books in the world that might help you relax and enjoy life. You can even purchase a "Relaxation and Stress Reduction Workbook" if you want. But since that will cost you $16.96 and be dry as dust, why not save yourself $5 and buy The Thing About Dairy Farmers instead?
It's fun to laugh. It's even more fun to make other people laugh, so grab your copy today and have it ready for the next family get-together (especially if you have a relative who is a farmer, or if your extended family is a bunch of city-slickers and y'all enjoy a good guffaw at us country-folk).
I know I'm not the only one with crazy farming stories! If you have one to share, this is the place! Just fill out the form below, and if you make me smile– I'll post your farming memory here (and if I ever need fodder for a sequel, this will be my starting place!)
We'd love to hear your best farming stories or jokes.
From Jessica:
I remember when I was little I used to tell my parents that I was going to marry a farmer and have my very own farm…. that dream lost it's appeal as I got older and I all I wanted was to travel and move to some new exciting place. When I was 16 I started dating a quiet and respectful boy who Im now married to. All I can do is laugh at how life works out….our first date consisted of him teaching me how to milk cows and showing me around his family's dairy farm. Now seven years later I happily married to the farmer of my childhood dreams
From Brianna:
When Ezra and I were out putting up fence today, we were admiring how pretty the beef cows look, even with snow on their backs, and I was standing there in Ezra's work clothes and thick leather gloves and knit cap on… and I came up with a new one… You know you're a farmer if your cows are definitely more high-maintenance than your wife. HA! (It's only funny today because I'm in a good mood!)
From Pam:
I've always been a farm girl, but I married into a dairy family, a wonderful bunch of people! But I remember being jealous when my future husband said he had to go work with some hot babes in tight leather, which I found out later was just one of his affectionate terms for the cows. Needless to say, I got over my jealousy real quick.
Another one from Pam:
You know you're a dairy farmer's wife when your husband jokes to his friends that he put you on the breeding wheel and shares you're expecting by saying you're going to freshen.
From Theresa:
My children have been very active on the farm and help with chores daily. My son even took over milking for 3 days while I while I went to be with my oldest son in North Carolina. When I came home, My middle son said that when I died, he would shoot my cow and bury her with me. This son has worked the hardest in repairing fences and such around here. Now that he is quite a bit older, he appreciates that hard work of the past. He finds most work easy compared to farming!
From Stephanie:
Heard rustling in the kitchen one morning last weekend at 5 am. Came out to find my dairy farmer husband weighing out TMR minerals for our cows with my kitchen scale. You might be a farmers wife if… I was born and raised on my family's dairy and now my husband has joined and taken the title of dairy farmer this year. Blessed to have him work from home and to be called the dairy farmers wife. I was excited when I saw your book and look forward to reading it.
From Gail:
When we first met our very dear friends we were clueless about farming. One night our farmer friend said, "You'll have to excuse me I have to go to the barn, I have a cow that is about to freshen." We were left wondering. Deodorant? A shower, a bubble bath, how does a cow freshen? Ha ha!
From Annette:
We have a milk cow, and when she calved last year she (happily) blessed us with a bull calf! We promptly named him "Eddy" – short for "Eddy Bull", which is long for "Edible."
From Brianna:
Aurora picked up your (farm) book yesterday and said, "She made this one smell like a barn! How did she DO that?" Giselle smelled it and said, "Whoa! I didn't know they made scented books!" She passed it over to me, and sure enough, it smelled like the inside of dairy farmer's old truck.
We laughed and said it was the "Special scented edition." It had just returned from being loaned out to a friend of ours who's a dairy farmer. HA!
"There are few people who can write a hilarious story about lecturing disobedient cows or hosing down a manure-covered kid, and then on the next page tell in wonder about how God works in the hard and beautiful of our lives-but Tasha does it so well." — Meghan Harney,
"I love her soothing, grace-filled and often humorous, writing style and her beautiful photography!" — Rhonda Freed