Learning to Trust God's Silence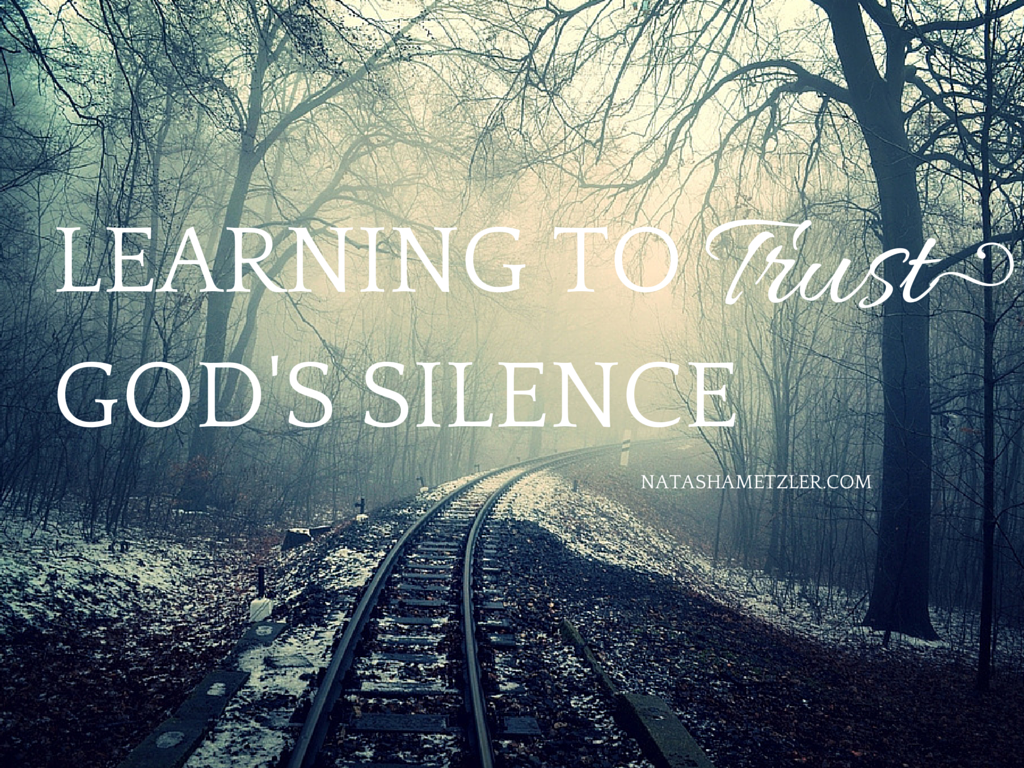 This year I finally received answers to questions I asked 9 long years ago. Questions I etched out into my journals with moans and tears.
I wondered why God was granting my sister-in-law the answers to her prayers, with the gift of beautiful twin girls, while I begged and pleaded for just one child. Why did He say no to me, and yes to her? Why did I have to suffer, while others rejoiced?
For years those questions remained unanswered. They sat dormant through a long winter season. Years and years of icy coldness.
But the moment when my daughter arrived, this amazing bubbly eight-year-old girl, who may not be born from our genes but is the spitting image of her Daddy (every last ornery, stubborn piece of him), winter thawed.
God's silence on the subject of my infertility broke. His words echoed in thunders from the heavens.
It was a long road to get our daughter from her birthplace to our home. But there is no doubt that God's hand was on every step, every moment. He gave her other mothers along the way, to get her through, but this was always her home.
Our labor to get her here just lasted almost 9 years instead of 9 months.
But I didn't have any idea of that at the time.
No, at the time I was broken and lost. I felt abandoned. At some points, just like normal labor, I was convinced I could not go on. And I questioned the goodness of God.
You know the question. How could a loving God…?
From here, from beyond the curtain that shrouded my view for so long, I can answer.
How could a loving God mar my life with infertility and lost pregnancies?
Simple: A loving God would care about all people, from all nations. He would look and see an infant girl in Guatemala, in desperate need of a mother, who had none. He would work through the choices of many people, slowly but surely moving that baby girl to the mother He chose for her.
A mother, it turns out, who understands loss and can connect and bond with her. A mother hand-picked by a God-Who-Loves to embody that Love to this child He created.
God didn't whisper the ending to me. He could have, probably, but He didn't. Instead, I had to fold up the journals and learn to keep going without answers.
And I think I know why.
You see, now that I have this daughter of mine, it's easy to start filling books with questions again. All this work, Lord, and what if she refuses to believe truth? What if she reaches adulthood and rejects everything we've taught her? What if we love on her for years and she still rejects us in the end?
God's not answering those questions. Not because He can't, but because it doesn't matter. Not for me. My job stays the same, no matter what the outcome. I don't have to see behind the curtain to know my next step.
And Lord-knows, all I can handle is the next step.
So, I'm learning. Slowly, but surely.
Learning to prepare for God's silence by spending time in the Word.
Learning to listen for what He is choosing to say, not just what I want to hear.
And learning to trust that He's got it.
For real. He's got it.
I don't know what questions are piling up in your heart unanswered. I don't know what path you've been walking, step after step. But I do know that God's got it. He knows. And He can be trusted.
So today, as Elisabeth Elliot once said, "Do the next thing."
God will pull back the curtain when the timing is right. He will speak. Not on your timetable, perhaps, but He will.
So take the next step and trust that's He's got it.
Because He does.