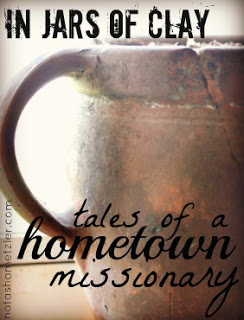 Spiritual battles are often hard to identify in the moment. It is later, after time has deepened your vision, that they become clear.
In all the coming and going on our street, I often forgot that more was at stake that what first met the eye. And I willingly exchanged the heights of mountains for momentary gains.
But God was not done.
Young Adult's group was to meet at our house that evening. I had every desire to clean, bake, shower, apply make-up and a cute outfit, then pretend like that was how I lived every day. I bake apple pies and wear eye shadow.
But God had different plans.
Jonathan's grandmother practically camped out on my porch that afternoon. She swung a bony arm, the one with the burning cigarette, around the corner post and began to ask questions. Half a pack of cigarette's later, I began to get antsy.
The questions ranged from, How do you get all the kids to obey you? to What are you having for dinner? to Why are you here?
My wandering heart almost missed the opportunity. I wanted her gone. I wanted to have time to shower and scrape the ashes off my porch railing and what about the apple pie? But before I could blow her off, the question echoed.
I blinked. Hard.
Why are you here?
Something inside me snapped. I looked up at her and spoke slowly, feeling for words as I went along, "Honestly, I'm here because God told me to come," I explained. I told her it was because she was loved and important. Because God pours out grace, even to those as deaf and blind as me.

My eyes sparked open and the Spiritual battle at stake settled into forms. Apple pie and eye shadow? Being noticed by a boy? Distractions of a prideful heart.
I looked at my neighbor and watched her smile. She told me her story then. Stopped dropping questions, perhaps because she finally had the answer she longed for, and began to share the tale of her life. When she ran out of cigarettes, she still kept talking.
I met the members of my Bible study at the door that night with frizzy hair that smelled of cigarettes and sweatpants.
It was true that the guys gravitated toward the others. The ones who smelled pretty and wore cute jeans and curled their hair. But some battles are worth the casualties.
Part One: {In Jars of Clay}
Part Two: {Wind and Waves}
Part Three: {Miracles and Mustard Seeds}
Part Four: {Labels and Trust}
Part Five: {To Flourish}
Part Six: {Seeing True}
Part Seven: {Songs to Believe In}