Beer-Lahai-Roi: well of the Living One who sees me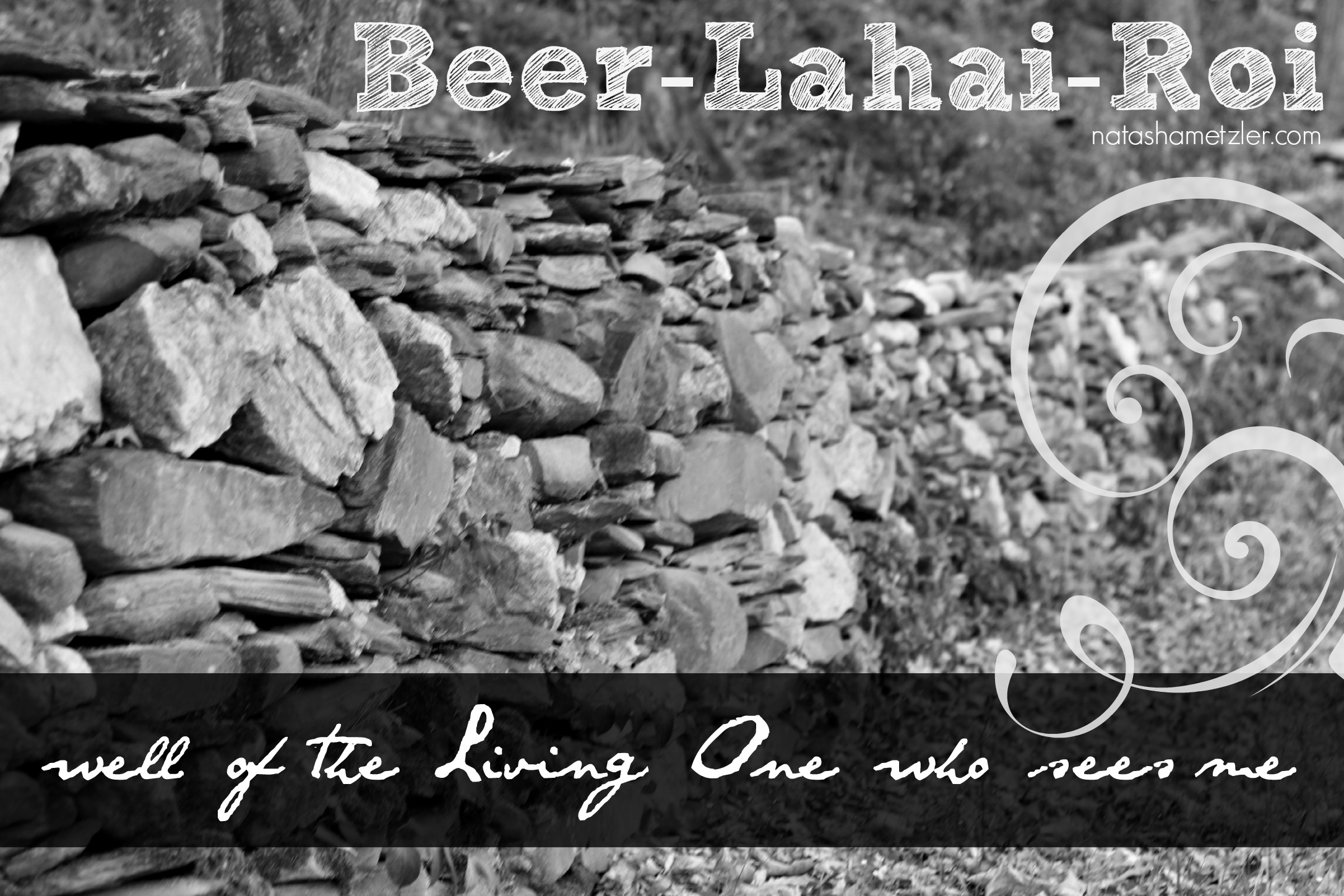 Her story is the one that captures me. I suppose I should be caught up in the other-story, the one of promises and God's miraculous gift of a child to a woman well passed the age of childbearing, but I'm not. I'm fascinated by her story.
She was a lot like me. Sometimes a victim, sometimes a prideful perpetrator, sometimes wounded, sometimes privileged.
She was the servant caught in the midst of a woman's burning desire for family. A servant who made some poor choices when it comes to respect and honor. A servant who was mistreated and abused.
So she ran. Into the desert. Found refuge at a spring where an angel of the Lord appeared to her.
And suddenly the lowly servant is clinging to her own promises. You will have a son, the angel says, and he will become a great nation…"
These aren't the promises for Abram or Sarai. These are her own.
"You are the God that sees me," Hagar says, "for I have seen the One who sees me." (Gen. 16:13) She named the spring, Beer-Lahai-Roi. Well of the Living One who Sees Me.
————–
They were in the midst of a battle to extract themselves from a toxic church. When they stood for what was right they were maligned and abused. Unbiblical spiritual authority used to try and break them, crush the rebellion out of their hearts.
"You are in sin," they were told when they would not give up their hold on truth, "and your prayers won't go beyond the ceiling of your house."
They cried. Hurt. Struggled through this dark weighty emptiness.
She stood one morning, at the end of herself, staring at the big maple tree in her front yard. Her husband was going to cut it down the next day, worried that it was growing too close, was too old. She couldn't help but remember all the times she would stand and watch the robins perch on its branches. It was too late for robins that year, winter dancing close and the song of the birds disappearing for another season.
But she dared to pray, even though she wondered, worried, that perhaps they were right. Perhaps her prayers would only bounce off the ceiling of her home. "God, let me see just one more robin perched on those branches before the tree is cut down."
She went to bed without having seen. The desert opening wide before her.
In the morning she heard something, slipped from the bed and rushed to the window.
It wasn't a robin.
It was hundreds of robins.
They covered the tree. Covered the yard. Sat perched on her porch. Every direction, they were there. Never before had she seen anything like it. Robin after robin after robin.
It was an angel of the Lord appearing before her and whispering, "Perhaps you would have wondered if it was a coincidence had there been only one or two. Dear one, be not mistaken. I AM God and I hear you."
She wept, lifted weary hands, clinging to a promise of her very own. Drinking deep and being revived from a hidden spring in the desert.
Beer-Lahai-Roi. The well of the Living One who sees me.
—————
It was a letter. A vicious letter. I was the least of the victims, all that was said about me was that I was a jerk, a fake Christian with a pride issue a mile long, nothing compared to the other accusations that flew.
But they were people I loved and I never expected it. Had no way to shield myself from it.
I was raw. And torn. And bloodied.
I curled up in a ball that night, rocking back and forth. The tears were so hot, I was certain they must be leaving trails of blisters on my cheeks.
"God," I whispered through dry-cracked lips, "have I only been fooling myself? Am I really serving you if someone, a person that I only ever tried to love, can believe such things about me?"
Every mistake I ever made seemed to parade through my mind. I was a worthless sinner. One who couldn't even show love to those closest to her, let alone a lost and dying world. Who had I been kidding? I was of no use to God, I was of no use to anyone.
It was the middle of the night when I finally got up. Put on sneakers. Walked to the park behind our house. The moon was large, stood out in the sky between the maple trees. I stared at it, feeling more empty and broken than I ever had before.
The words startled me. They seemed to be shouted from the heavens but I knew they were only echoing in my head. You are mine, they said. And it felt like the words were branded onto my skin.
The moon. The trees. The way the dew glittered on the stalks of grass.
The voice of the Father that labeled me. Chose me.
I suddenly realized that even if those accusations had been true, it was okay. Because I served a God who was looking for the lost and the broken and the sinners. He was inviting me in to His table, to feast on His glory.
He opened the well, poured water onto me. Life-giving water that soothed my wounds.
It was Beer-Lahai-Roi. The well of the Living One who sees me.
———————–
Friend, will you share your story? Your moment in front of Beer-Lahia-Roi? Your moment before the well of the Living One who sees you? Leave it in a comment, or write it in a blog post and leave the web address for me. I would love to read it.