when a book inspires action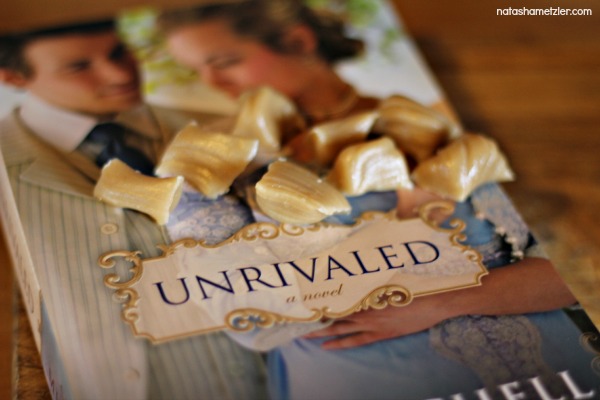 I've always said that the best books inspire action of some kind.
Well, I just read a book and while I don't think it is necessarily one of the "best books" it did in fact inspire action on my part.
Siri Mitchell writes historical fiction and her newest novel ( Unrivaled
) happens to be about the candy business.
Lucy is the daughter of a candy maker who created a bestselling taffy but then lost the recipe and his company in a business deal gone bad.

Charlie is a rough 'n tough survivor from the wrong side of town who ends up in trouble with the law for a crime he didn't commit. In desperation his mother writes a letter, requesting that her long-gone (and ridiculously rich) husband do something to help the son he abandoned years before.

The two young people are quite enthralled with each other until they discover that the successful empire Charlie will someday inherit was built on a certain recipe for the best taffy ever made.
It is a typical historical romance but Mitchell has incredible talent when it comes to writing about sweet confections. It felt a bit like stepping into the set for Chitty Chitty Bang Bang. (I almost burst into a verse of Truly Scrumptious with a rousing rendition of Toot Sweets….)
All the talk of whipping egg whites and boiling sugar and pulling taffy, of nougat and chocolate and crunch….
It was cute. Fun. And inspired me to stand up and make a batch of caramel taffy. Seriously.
The boys followed me around the kitchen as I threw water and sugar and salt, vinegar and butter into a pan. It boiled and they sighed at the smell. Eyes widened as I pulled the long strips of shiny sweetness.
I let them taste a bite and they seemed a bit shocked. "You're good!" the seven-year-old said in surprise.
I didn't burst my his bubble by telling him that it is virtually impossible to mess up sugar and butter.
The book was a decent read and the caramels it inspired? Delish.
The only thing that would have been better would be a few recipes in the book itself. Instead I had to make up my own (because after reading about Lucy tossing together ingredients in her 1910 kitchen, I just couldn't bring myself to google it!) which was an adventure in itself!
If you want to make some, just mix together 1 1/2 cups of water, 1 1/2 cups of sugar, a splash of vinegar, a dash of salt, a tablespoon of butter– then mix on high heat, boiling for 8-10 minutes (until hardball stage). Add another tablespoon of butter, mix it well, and then let cool until you can touch it without it burning you. Butter your hands well and pull, pull, pull. Keep pulling until it is completely cool. Whalla! yumminess.
You can find more about Siri Mitchell here (or follow her on twitter here).
Bethany House Publishers sent me this book in exchange for an honest review. They probably had no idea that it would cost me a few ingredients and some hyped-up-on-sugar kiddos.