the best books for Christian adoptive parents
Being an adoptive parent has been one of the most beautiful things I have ever experienced. It's also one of the hardest.
I have been abundantly blessed by having many pioneers in adoption, attachment, and special needs who have gone before me and have willingly given their advice, suggestions, and exuberant encouragement.
Still, with all of that, there are times when this feels like the loneliest of journeys.
Enter books.
I've always loved reading anyway, but when I can pick up a book and read something by a person who understands the ups and downs of Reactive Attachment Disorder, or the ins and outs of trying to love a child who is fighting that love, or the sheer exhaustion that comes from a child who is on high-alert every. single. second. it can bring much needed HOPE to the heart.
Twenty years ago when families were adopting, there wasn't much for resources. But today we are blessed. Today there are more and more books coming out from people who have lived this journey and who are willing to share tips, ideas, encouragement, and can remind us that we're not crazy. This really can be a difficult road, but we can do it.
On Parenting Adopted Children: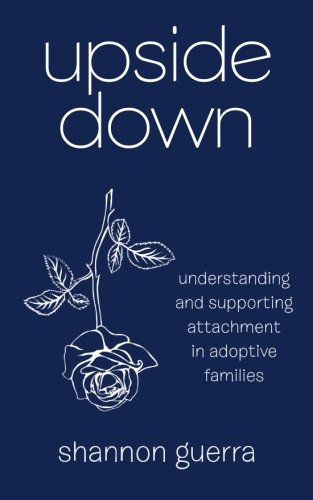 Upside Down: Understanding and Supporting Attachment in Adoptive Families by Shannon Guerra
This book is, hands down, one of my favorite resources. If you're thinking of adopting, have adopted, know someone who has adopted, or are just part of the Church as a whole– you should read this book. It's not long. It's not hard. It's even a little hilarious. In fact, it's more like sitting down to coffee (and chocolate!) with an adoptive mother and hearing her heart (and a few great ideas!). You should read it, have your spouse read it, your neighbor, your pastor, your great-aunt Matilda, and suggest it to everyone else in between.
Written by an adoptive mother, right in the middle of parenting, it gives a beautiful picture of what adoptive parents are actually facing on a day to day basis and how to support them.
The Connected Child: Bring Hope and healing to Your adoptive family by Karyn Pervis
In the world of adoption and attachment, Karyn Pervis is a name you should know. While this book (and every book you've ever read) isn't a cure-all, the concepts behind connected parenting are essential pieces to understand when you bring a child into your home.
Reading The Connected Child through the viewfinder of Scripture (which is how I suggest reading any book) is so, so valuable. It can give you VISION for how to parent well, and vision is a very needed thing while raising adopted children (and biological children!).
Parenting: 14 Gospel Principles that can Radically Change Your Family by Paul David Tripp
When I first read this book I had never heard of Paul Tripp. I received as a book to review for a website I'm a part of and to-be-honest, I wasn't really looking forward to it. I kind of expected to open it up and read and think, "Well, maybe if I had bio kids, this might be a good resource." Turns out I was wrong. It's an excellent resource for parents of adopted children or biological children. Mostly it's an in-depth look at what your parenting-strategy is and should be and it is excellent at getting down to the things that matter.
I was quite impressed that it felt like a handbook I could use, even with my adopted children, and then later I had to laugh because I found out that Paul Tripp is an adoptive father.
This short little book has been a gift to me and to generations of people before me. I had read Amy Carmichael for years when I was single, but then sort of quit when I got married. I guess the life of a single missionary in India in the 1800's just felt very different than where I was at that point. But I picked it up one day after struggling with my adopted daughter, and the "overview" at the beginning of the book stopped me in my tracks.
Amy wrote this for one of her workers who was struggling to love the children in their care.
The children you know, who had faced abandonment, abuse, sexual exploitation, and the list goes on… The children who probably had major attachment issues and probably a few cases of full-blown R.A.D. The children who were basically "adopted" into Amy's make-shift family when they were rescued.
This book, which is all about knowing Calvary love, has been used by God to gently correct my heart time after time after time. It's like a gold-mine of advice from an older adoptive mom, the dear Amma, who reached so many children and continues to bless and inspire people today.
The Five Love Languages of Children by Gary Chapman
Learning your adopted child's love language is a HUGE undertaking. I'll be honest, I'm still struggling to find my son's love language– mostly because he's still struggling to accept ANY love. Attachment issues, ADHD, ODD, and all the other acronym-type labels, can greatly hinder identifying a child's true personality and love language.
But I have hope that we'll find it yet, because his journey has been similar to our daughter's. As they learn to attach, they learn to relax, and somewhere in there their true selves start showing up. And that's where this book is WONDERFUL. Knowing the love languages made it possible for me to watch my daughter and note the places where she most-easily accepted love, and recognize where I needed to work to fill her "love-tank" and Gary Chapman says.
It's not always easy. I mean, I'm an introvert and she's an extrovert who DESPERATELY needs TOUCH to feel loved– but we've figured out a way to discuss her needs and my needs and find a balance (most days) and even make it a standing family joke. (She starts acting up and I tease her about needing "bonding" time, which is what we call it when my SKIN IS TOUCHING HERS. I can't just pat her back. No, no. I need to hold her hand, or kiss her nose, or touch her face or SOMETHING. She can be bouncing off the walls and one squeeze and a kiss on the nose and she settles right down.)
Discipline That Connects With Your Child's Heart: Building Faith, Wisdom, and Character in the Messes of Daily Life by Jim and Lynne Jackson
This is on my to-read pile and comes very highly recommended. I look forward to reading it and will update with a review when I can.
Attaching in Adoption: Practical Tools for Today's Parents by Deborah Gray
Much like The Connected Child, Deborah Gray's Attaching in Adoption is packed full of information and ideas to help create a vision for parenting an adopted child who struggles with attachment. I gleaned so much excellent information from this book!
Memoirs that Encourage and Inspire:
Different: The Story of an Out-of-the-Box Kid and the Mom Who Loved Him by Sally Clarkson and Nathan Clarkson
This book is an incredible resource. I'm thankful for Nathan's desire to listen to the Spirit and bare a part of his heart, his childhood, and his brokenness, so we can all catch a glimpse of what God can do with Out-of-the-Box kids.
Adopted children, even if they have minimal to no special needs, are still different. Sometimes that displays itself outwardly, and sometimes it's just internalized, but either way, we need to find the path to loving them well. In this mother-son team-up, we are taken on a journey from Nathan's childhood through to adulthood, and are shown a glimpse of how his mother sought the Lord on parenting him– knowing that this child, with his particular needs, would require a different approach. Although he wasn't adopted, his special needs (OCD, ADHD, ODD, etc…) are very similar to many that are mimicked in adopted children. Reading this book inspired me to look at my children realistically, but also with HOPE.
In a Sun-Scorched Land: A Memoir of Adoption, Faith, and the Moving of Haiti's Mountains by Jennifer Ebenhack
On my to-read list, comes very highly recommended!
Every Bitter Thing is Sweet by Sara Hagerty
I often suggest this book to those struggling with infertility, but it is also a beautiful story of adoption. Definitely worth the read for the encouragement toward attaching with your child, and also a deep spiritual memoir that can grow your faith.
Kisses from Katie: A Story of Relentless Love and Redemption by Katie Davis
A beautiful memoir of a young girl who followed God's voice and went to work with the needy children of Uganda… and ended up adopting 13 of them. Reading through her journey as God built her family is inspiring, encouraging, and a reminder of why we're doing this in the first place. Not because we've got something great in ourselves, but because these wonderful little ones are image bearers of God. And in being the hands and feet of Jesus to the least of these, we find that our own hearts are transformed.
This list is far from finished! As I read and find more books, I'll be sure to add them. If you have a book that has encouraged you in your adoption journey, do share in the comments?
May you be blessed abundantly as you walk this road,
Natasha