Does God Care About the Details of My Life?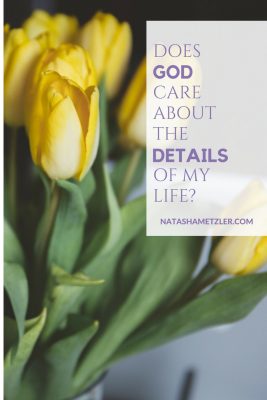 It was around lunchtime when my thoughts began spinning.
All morning had gone by and I hadn't thought of anything but myself. I was busy living life, without thought or concern for the things of God. I wanted to argue… did it matter?
Did God even care about the details of my life at all?
I thought back through the morning and felt convicted. I hadn't lived in a way that would honor God. Why do I do things that aren't pleasing to God? Why can't I just follow faithfully? Why is it that I stumble and stumble and stumble?
It stopped mattering what the "things" were years ago. No titling my failings "little" or "big". Sin is sin. It's ugly and nasty. And it stinks. It makes all of life start reeking.
If you know what you ought to do, and don't… it's sin.
So if I know that I ought to be spending my day in service to God, and I'm so filled with selfish thoughts that I don't, it's very simple. And I'm not saying that I need to be doing what the world would label "great". I just need to be asking God what He has for me today. Whether it's raising money for a nonprofit, or baking chocolate chip cookies.
I know God cares.
I remember when I read the book, The Practice of the Presence of God, and came to the understand that God wants to be involved in the intimate details of our lives. Nothing is too little. Nothing is too big. He cares. End of story.
Living by the Spirit is what my best friend and I called it. There was a whole season of my teenage years that we kept each other accountable to this. "Have you been listening?" We would ask.
Have you been listening to the Spirit of God? Have you been following what he says? He cares, you know.
Does God really care whether I make chocolate chip cookies today? I think so.
Not because it always matters whether or not I do but because He wants to hear about it.
And sometimes, oh, sometimes, it does matter!
Some days I might need the chocolate chip cookies coming out of the oven just as a neighbor stops to ask a question about their tractor. And they can be invited to sit and eat a couple. And my husband might answer the question they had and then ask one of his own. Do you know Jesus?
And a chocolate chip cookie might change a life.
So quickly we label things. Important/Unimportant. Holy/Not Holy.
But all of life flames with God.
It's true.
And I forget.
I get lost in my own little world where I'm all that matters and piles of sin fill my life until the stench drives me to my knees.
But God wants me. He wants you. He wants to be involved in every aspect of your life. He cares. He loves. He fills. He redeems.
Yesterday after church, a friend handed me a beautiful red rose. She whispered, "God loves you. The red is to remind you of his blood. The thorns to remind you that he bore your pain on himself."
All the way home I held the rose in my hand. My fingers ran over the sharp thorns. And one word kept running through my mind. Yada, yada, yada.
A word that has been changing lives lately. Mine included. The word that reminds me that God knows, intimately. And He wants to be known by me.
Suddenly it makes sense that He cares about chocolate chip cookies and the lies that slip from my lips and the anger that spills from my heart.
Of course God cares.
I finished preparing lunch and my thoughts settled.
God cares about the details of life. He cares about the ups and downs. He cares about the house needing to get cleaned and my neighbor needing to hear the truth. He cares about my vehicle starting, what I'm making for dinner, and how I am using my life to share love with a hurting world.
And He cares about you as well. All your details, hurts, joys, and neighbors.
May we all learn to practice His presence. May we learn to embrace His love. And may we learn to live with open hands and wide-open hearts.