when life throws you a curve-ball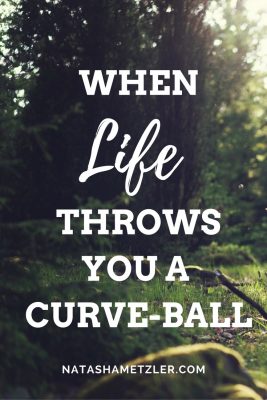 Life takes random turns in just moments.
It can stretch endlessly in one direction and then in a split second, you can be spun onto a new path.
We were cleaning in the barn earlier this week, just getting some work done while the kids were off school for Christmas. Our son was hauling loads of wood scraps to the furnace in the shop. Our daughter was hammering nails from boards. Just cleaning up.
I was helping my husband move two large barrels of corn and I tripped over more wood scraps. I knelt down, piled them up in my arms and started moving toward the stairs to hand them off to our son as he came up.
A sharp intake of breath and the crash of a barrel against the wall and in my head it started registering what my husband was saying. He just cut off a finger? What?
I spun around and he was walking my way with blood dripping down his arm. I dropped the wood, started toward him but his words stopped me. "Get the cayenne pepper."
It's a trick we learned from Amish neighbors. For colds and the flu we'd used cayenne pepper tea for years, since it heals a sore throat faster than anything on the market; but then one day one of the Amish boys helping us sliced a hand open. We drove to their family to get a consenting adult before we took him to the ER, and the boy's uncle said, "Oh, we can take care of that." He packed the wound with cayenne pepper, slathered it with B & W salve, and then wrapped it in a burdock leaf. Amos looked at the thirteen year old and said, "Didn't that sting?" And the boy's eyes twinkled a bit. "Not really. It actually feels pretty good now."
The next time Amos had a cut, we tried the procedure and a deep slice between two fingers healed like a charm. For years now we've kept cayenne pepper in the First Aid kit.
As we rushed to the house, I kept glancing at his hand. Through the blood it looked like his finger was still there. When I came back outside to pack the wound I realized it really was missing. It was just sliced length-wise instead of chopped off. Cayenne pepper wasn't going to fix this.
Later I would think of how small a finger seems. It's not your heart, your lungs, your life—yet it's your hand.
And for my mechanic-husband, it's the tool he uses to provide for our family.
Half way through the first ER visit, before they sent us to a bigger hospital, I started to feel floods of panic sweep over me.
It's my usual routine. I can stay calm until everything is delegated. My husband is being worked on by a nurse. The paperwork is filled out. I got the return call from my parents telling us they had picked up our children from the neighbor. They were taking them overnight. The kids weren't too traumatized. They were talking about their worry for Daddy, but were excited to spend the night at Grandma's.
Now we were just waiting for the doctor to look at the x-rays.
Now panic could wash over me.
Which translates into waves of hot/cold and having my head stuck between my knees so I don't faint.
The nurse thought it was the sight of the bloody mangled finger. It wasn't. It was all the what-ifs and the doctor saying things like "multiple surgeries" and "specialist" and "long recovery". It was the barn, with all the heifers and the gutter cleaner that sometimes comes apart, and the tractor I can't drive (mechanic's tractors are the worst), and the round bales I can't move, and the bills I don't know how to pay. It's the clutch that needs to be replaced in our vehicle, the one sitting on the passenger seat that I wouldn't have the first clue how to install. And it's winter. With lots of snow. And another tractor with peculiarities and a snow blower that I don't know how to run.
My life is pretty dependent on my husband's abilities.
So I'm sitting there with my head down and my husband's good hand gripped tight in mine, and the post I shared last week seemed to rain down on me.
True faith does not limit how God works, it just knows He will.

My God doesn't always move the way I want Him to, but He always moves.
Right then we looked up and our friend, Nate, stepped inside. He was just finishing with Spanish Bible Study when his wife told him I had texted asking for prayer. So he came to pray with us in person.
Deep gulps of air seemed to fill my lungs. My equilibrium settled. Trust without reservation. Even now, even here.
Later that night, when my husband's brother drove him to the second ER and I stayed home to shower because I still smelled like manure and had hay stuck in my hair, and someone needed to fix the fire so the house wouldn't freeze, I just broke right down. I stood there with water running over me, sobbing, and thinking how I wanted to have faith but I felt so very alone.
I wanted my children and my husband home with me. I didn't want to be in this big empty house, dependent on someone else to pick me up in a few hours to drive me south to meet up with the men. I wanted to be able to DO SOMETHING to fix this.
And instead, I pulled on my husband's big sweatshirt and sat in front of the fireplace and finally started talking.
Prayer is such an interesting thing, so grounded in who we are and who God is. He, of course, never changes, but we do. And through prayer things are settled into our being that don't come any other way. Deep rivers of truth and building blocks of faith and this blinding force of HOPE.
I don't even know what I prayed, curled there on the couch at two in the morning. I just know that I spilled it all out to the God-Who-Knows and I whispered out loud how I was so scared but I was going to trust Him without any reservation. I wasn't going to put limits on how He needed to work to please me. I wasn't going to demand that He do things the way I wanted them done.
I was just going to trust.
I fell asleep in front of the fire and was startled awake at 5:30 when my husband walked downstairs. The ER doctor from Syracuse had given him antibiotics, a tetanus shot, some pain meds, and a referral to an orthopedic surgeon.
I wish I could explain the relief that washed through me to just have him home. Like God had reached down and wrapped me in a warm gentle hug.
The next few days were crazy. We drove hours here and hours there and they took him into surgery and amputated the end of his finger. He had all the nurses laughing and calling him, "Mr. Farmer-Man". They rolled their eyes when he woke up from anesthesia and started reaching for his clothes. "Just give yourself a few minutes," they told him. He nodded and started pulling his shirt on. The nurse looked at me. "He always this stubborn?" Of course he is. I couldn't help but smile.
He's all bandaged up now, home with his family for Christmas.
We stopped at our Bible Study group on the way home from the surgery. During the prayer time, our friend Gary, whose wife was just healed of terminal brain cancer, shared words that closed around me.
God is committed to lavishing love onto us.
This, of course, is the ultimate shining hope. Trusting without reservation means trusting through the bad, but also trusting for the good.
The barrel that sliced my husband's finger off should have crushed his hand. But it didn't. Not this time.
And I'm thankful, even though this is still hard to walk through. It's not the end of the world, but it's hard enough for now. And this is all God has given us for today.
Sometimes life throws us curve-balls. It does. And it's hard to know, in the moment, what to do and how to do it, but God is right there.
Trustworthy.
Good.
Committed to lavishing love onto us.
As you celebrate Christmas this year, remember this beautiful promise. Living in surrender to God's will and God's plan is a safe place. Even when curve-balls are flying your way. Even on whatever new path God is taking you or family down.
May you know Him as Emmanuel this year. The God-who-is-right-here-with-us.
Because, as I can again testify, He is.