learning to pray out loud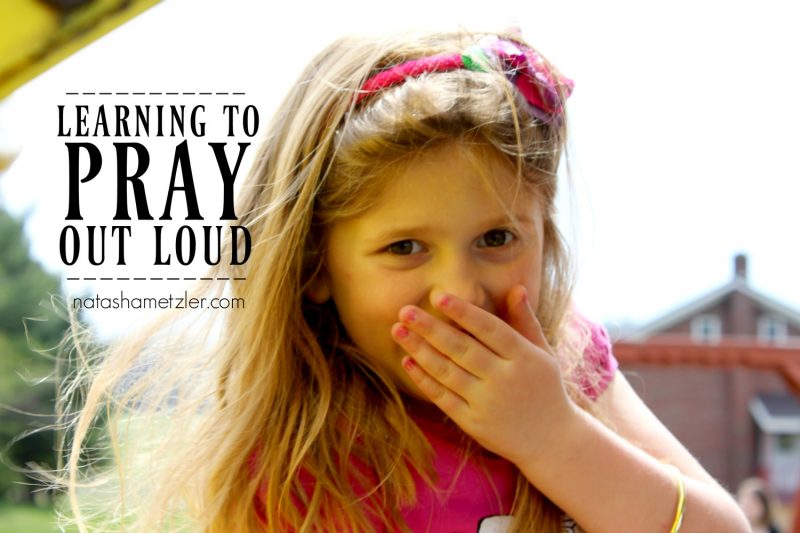 It was a long hard morning at our home. From the first step out of bed, our children were in rare form. I contemplated sending them back to bed. I contemplated hiding in my closet until everything blew over. I even contemplated jumping into the car and just driving far, far away.
Instead, I faced off with them. I am, after all, their mother.
When afternoon came, we still weren't done, but I had to be someplace. My husband tag-teamed with me and sent me off. I breathed a sigh of relief when I got in the car, but it only lasted a minute. Discouragement settled on my shoulders. Maybe we were wrong about being able to parent adopted children. What if all the knowledge and love and prayer in the world wasn't enough to help a traumatized child heal? What would we do?
I put the car into drive and started down the hill to Curt and Delite's house.
All my life I've known Curt and Delite Christman. They did, after all, meet at my parent's wedding. I've heard the story since I was knee-high. How Curt grew up with my dad and Delite grew up with my mom and when my parents married on the beach at Beaver Camp, they met. They weren't interested in each other, oh, my no, but they kept meeting up while visiting the newlyweds and there might have been a little matchmaking and well, now they have thirty-some years of marriage and four kids under their belts and are wracking up the grandchildren rapidly.
I've spent most of my adult life living near them and they have poured into me– so many prayers, and prophecies, and faith. When I've gone through losing babies and losing hope, they've stood in the gap for me and spoken truth over me. Even when I could hardly breathe, and when my tears knotted up my throat, and when I lay curled on their couch in agony.
Almost three years ago they brought Curt's parents home to live with them. Carl was in his 90's and he and his wife couldn't live alone any longer. As the years passed and dementia and age settled in, the weight of caring for them got heavier.
Periodically, Delite would call me to do respite care, which was why I was headed there on that particular afternoon.
Carl was having a bad day when I got there. At lunchtime he couldn't remember how to use his silverware and what he was supposed to do with the food once it reached his mouth. With his wife's constant encouragement we finally succeeded in finishing lunch and moving back to the living room.
When they were settled with the Gaithers playing in the background, I pulled out a pile of book work that needed my attention.
It was then that it started. Carl was looking out the window, then glanced over at me. His eyebrows raised and a flash of confusion slipped across his face. I was waiting for the question, "Who are you?" or for him to turn to his wife and say, "We'd better head home now." Instead, he just tilted his head and began praying.
"Oh, Lord, I pray for this lady and her family. Comfort them. Help them be faithful to You. Be near to their family. I pray that You will give them wisdom and strength. Let their children grow up to serve You, Jesus. Show them how much you love them. Let this be a family who knows You. "
On and on and on. Two and a half hours of prayers.
Did you read that? Two and a half hours of prayers.
I cried as I sat there. Leaned my head right back against the sofa, closed my eyes, and let the prayers wash Living Water all through me.
God's gentleness is so great, is it not?
I went home that evening refreshed and renewed. I also went home with a new prayer on my lips.
Oh, Father, teach me to pray out loud. Teach me to be so sensitive to the Spirit's leading that even if someday I am old, with dementia stealing my memory, filling me with confusion, I will still be used by You to display Your love and grace to the world.
I'm practicing it now, with these sometimes-difficult but always-beautiful children of mine. Well, we're actually doing it together. I told them about Carl's prayers and what God was teaching me and then I started praying over them. When they're struggling to obey, we stop and I pray out loud over them. When they are fighting, we stop and pray out loud together. When we're happy and giggling and enjoying life, I thank the Lord out loud with them.
And then, oh then.
The day came when I was the one struggling deeply. It had been a week of inward battles that were finally leaching their way to the surface. My husband and I talked intensely. I cried profusely. The kids looked petrified because usually Mommy and Daddy are in agreement but this time Mommy was crying and saying, "I'm sorry. I don't know what's wrong with me. I'm just sorry."
And suddenly my daughter was beside me, laying a gentle hand on my arm. "Mom, I feel like God wants me to do something."
I looked at her and waited.
"I was downstairs and I heard you and knew you were upset and well, I just. I think God told me to come pray for you."
So she did. She laid her ten-year-old hands on my arm, and spoke strong and loud and bright.
As peace settled in my heart, I wanted to thank Carl again. Tell him how grateful I was for the lessons he taught me. For the lessons he has taught my children, my family. It saddened me that he couldn't understand anymore, couldn't remember.
But he can now. He moved on to heaven just a short time ago. I know the Jesus he served was standing at the right hand of the Father to welcome him home. And I'm pretty sure at some point in eternity, he'll get the chance to truly grasp how thankful I am that he allowed the Lord to work through him. That he learned to pray out loud– and therefore, live Jesus to those near him.
The apostle Paul once said, "Imitate me, just as I also imitate Christ." And I thank our good, good Father for providing me with those who have modeled following Jesus for me.
May I now be faithful, that the generations coming behind might also know the Living Water.