the best Christian books for infertile women
As with any list, every book here may not be helpful to you. Many were just what I needed, some I included because while they did little for me, others have shared how greatly they were impacted by them. You will quickly find that most are faith-based and there is a reason for that. As a Christian, I believe there is a unique way to look at trials in life– and I naturally turn to others who are also looking to God for answers.
This is not a list of books that offer ways to get pregnant, but rather, ways to deal with infertility from in the middle.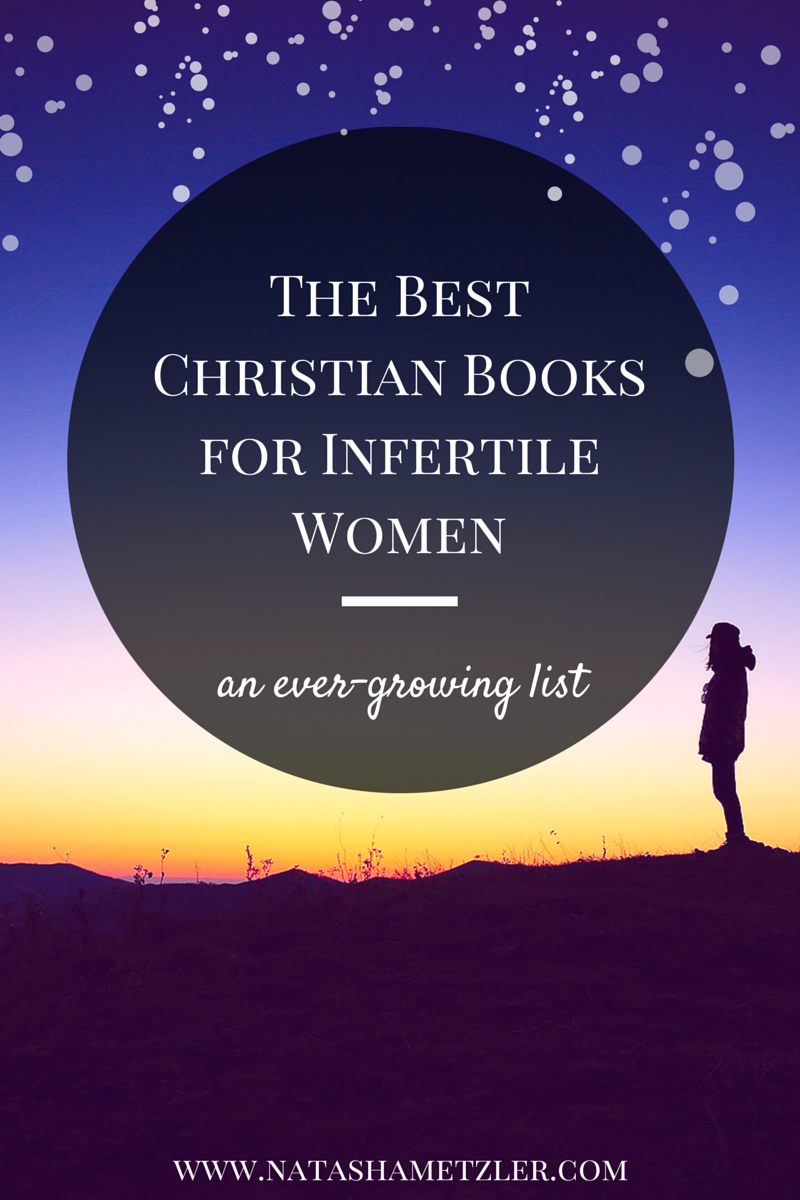 this booklet is my personal story to finding hope and healing long before adoption or a miracle pregnancy were a part of my story.
Beautifully written book sharing a journey through the struggle of miscarriage and loss.
encouragement to trust the God who will "never stop being enough."
Stories and encouragement for anyone walking through a season of barrenness.
Daily readings to encourage and bring hope!

pretty sure the title of this book says it all.
transcribed from a teaching by Elisabeth Elliot, this small book carries so, so much. It's not about infertility specifically, but all types of suffering.
this book by Laura Story (who produced the song "Blessings") is a beautiful reminder of all the lessons of faith found through the hard spots
no matter where you are in your journey, this book will have nuggets of truth and encouragement for you
a great resource of nutritional information to aid in fertility
my own journey through infertility and loss. A unique look at how God works in and through pain and willingly brings redemption. Includes a personal study guide.
a collection of stories about infertility, miscarriage, and loss
a study guide through Scripture and infertility
because no matter what kind of pain you face, learning the art of giving thanks will bring new joy
A personal story through miscarriage, infertility, and loss.
because sometimes we just need a quiet place where we know someone understand
prayer, Scripture reflections, and hope
because the Bible is really the most wonderful of comforts– but it can be overwhelming
a beautiful memoir, full of encouragement and grace.
this classic by C.S. Lewis is still one of the greatest looks at the problem of pain
Biblical encouragement for those struggling with infertility
hope for those in need of direction, encouragement, and companionship
for those who face a crisis of faith during infertility
because sometimes we just need to pull ourselves together and laugh
for the days when you just wonder where He is
though not about infertility directly, this book takes a look at how there are splinters of light, even in the darkest of nights
truths to comfort when everything feels dry and empty
a personal memoir of how God took the author through infertility and beyond
most specifically, the chapters on Job and Psalms. A fresh look on what the Bible has to say about pain and suffering
the story of Elisabeth Elliot's first year on the mission field. This book taught me so much about trusting God's hand– even when we can't see what He is doing.
for the days when the questions pile up– and you need some straight answers.
because even through the bitter, hurting days– God is working.
a beautiful look at personal and Biblical accounts of suffering– and God's faithfulness in the midst.
devotionals for those journeying through infertility
stories, hope, and a journey through the Bible to see what God says about infertility

encouraging truths for the hardest of days
Personal stories from women who have journeyed through infertility
Very real, very wonderful look at life with infertility
A devotional for any who are feeling alone.
Because there is something to be learned here, in the time of waiting.
wonderful guide to praying your way through the difficult days
Do you know of any books that should be on this list? Leave a comment and I'll look into them!
Have you a written a book that you'd like to see on this list? Contact me!