When Life Turns Out Different Than What You Expected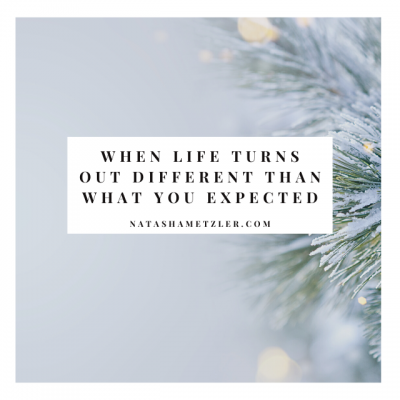 Some stories don't turn out like we expect them to.
I'm sure Mary would agree with me. She said yes to God's plan, despite her limited understanding. She put her hand right in His and followed the path laid down for her.
But I somehow doubt she ever expected where all it would lead her.
When my husband and I were first contacted about adopting a little unborn baby, we went right to our knees. We were Gideon with all his doubts. We weren't strong enough, wealthy enough.
Four times I stretched out a fleece. Not just the twice that Gideon did. Four times.
Are you sure, God?
Every time He laid my fears to rest. This was His battle, His decision, His plan.
The verse came to me, right in the middle of walking this new journey of adoption. "And [Mary] treasured all of these things in her heart." (Luke 2:51)
I was writing down the promises. Filling scraps of paper that I tucked into the back of my planner.
On this day God did this. On this day He did that.
My heart filled. Of one thing there was no doubt: God was in it.
But things didn't turn out the way we expected them to.
The baby came early. Too early. We traveled and visited our little Annie and touched her tiny feet, let her impossibly small fingers wrap around ours. Every day that passed with her still breathing, my fears eased. We serve a miracle-working God and I prayed His miracles into my daughter's life. But again, things didn't turn out the way I expected. Instead of bringing home a daughter, we said goodbye to an almost-adopted-baby.
God, what kind of miracle is this?
But even Mary– is this not the story she embraced? The glory of giving birth to the King of kings came with knifing sorrows as well.
"Behold, this child is appointed for the fall and rising of many in Israel, and for a sign that is opposed (and a sword will pierce through your own soul also), so that thoughts from many hearts may be revealed." (Luke 2:34-35)
Mary, whose pregnancy carried shame, who bore the pain of childbirth, who watched her son be embraced by the lost and broken– and rejected by the powerful, and eventually lay weeping at the foot of a cross as her innocent firstborn died a criminal's death.
It wasn't what was expected. It wasn't the glorious, miraculous arrival of a Warrior-King who would save the Jewish nation. Instead, it was a Servant-Child who would save the world.
Can I surrender to this God? The One who does what I don't expect. Who isn't ruled by my desperate longings, but is instead ruling with the knowledge of eternity. The One who is revealing the hidden places in my heart– not to crush me or break me, but to heal me up and fill the emptiness with whispers of love.
I always thought Mary was "treasuring up" the promises about her Son, but I think I was looking at those verses with limited vision. I think Mary was "treasuring up" the Emmanuel-Moments. The God-right-there-with-her moments. It wasn't about figuring out God's plan, it was about realizing that God was going before her, that He was her rear guard. She was surrounded on every side no matter what came her way.
And this is my promise too.
for the Lord will go before you,
and the God of Israel will be your rear guard. (Is. 52:12)
No matter what. God is going both behind and before me.
So when my baby dies, He is going ahead of me to prepare the way so I am not alone. And when adoptions fail, He is coming behind me and holding me in the dark hours. And when another year passes without a child in my womb, I am surrounded on all sides with His presence and love.
With the knowledge of His presence, I can rejoice in the gifts I have, even as I mourn the ones I have lost. This year, despite every impossibility, I get to hold my beautiful nine-year-old, and whisper the Christmas story to her. I can promise that no-matter what, the Emmanuel is still here.
Oh, Lord, help me teach this truth to the daughter you've placed in our home. Help me keep my focus on where You are– not on what I want You to do for me.
All those little scraps of paper– with all those moments written down? They are treasures because they are proof that God is Emmanuel. Right here in this broken, lost, sinful world.
So to you who are facing the unexpected: He's right behind you. He's going before you.
He's Emmanuel. The God-Who-Is-Right-There-With-You.
I promise.
You can find 40 of my best-loved devotionals in WordSnacks: Bite-Sized Devotionals for Your Hungry Moments.