How Our Relationships Help Us Understand God: Part Two (Mother)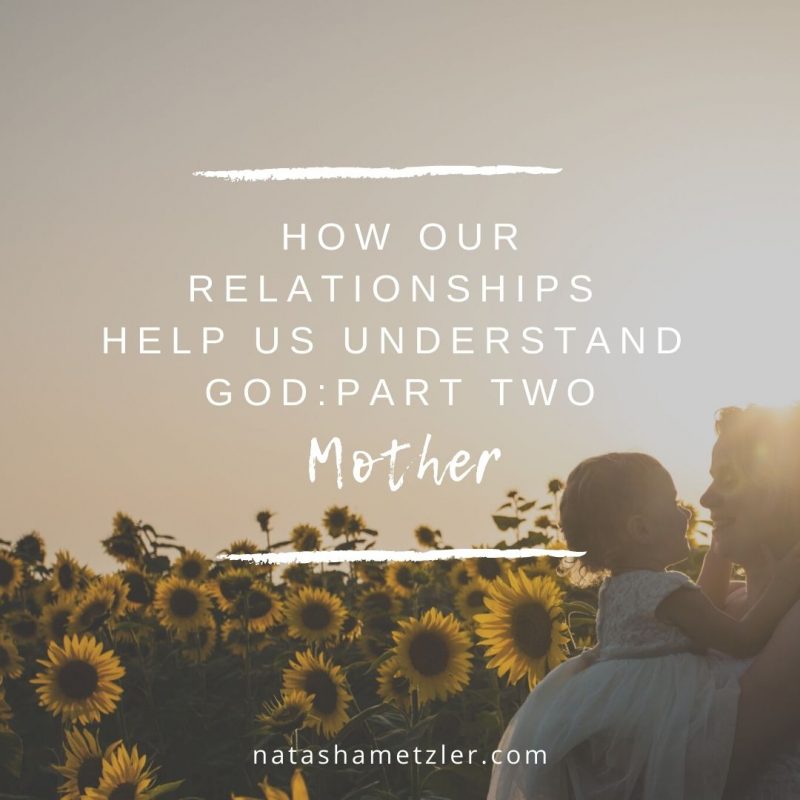 I was thirteen when I had an emergency appendectomy.
That morning I woke up not feeling well and after hearing me complain about intense stomach pain, my mom bundled me up and took me to Urgent Care. The doctor looked at me for a few minutes then sent us directly to the emergency room.
At the ER, it wasn't long before they had me prepped for surgery. My mom sat with me for as long as she could, holding my hand and promising that she'd be right outside the doors waiting for me. Just before they wheeled me to surgery, she told me to pick a Bible verse to repeat to myself.
I chose Isaiah 41:10, So do not fear for I am with you, do not be dismayed for I am your God. I will strengthen you and help you. I will uphold you with my righteous right hand.
The last thing I remember after being wheeled into the operating room was someone explaining to me that the clip they were putting on my finger measured my oxygen levels.
When I started to wake up I could hear someone screaming. I was mildly curious who it was but I couldn't see anything so I wasn't sure what was happening. In fact, not being able to see was really starting to freak me out a bit. I kept blinking my eyes, trying to get them to focus but everything was just black.
Right about then, I heard my mom's voice. "Tasha, you need to stop," she said. "I'm right here. They won't let me stay if you don't stop."
Several things registered at once—my mom's hand slipping over mine, the fact that the person screaming was me, an intense fear that was making me shake, and the words of Isaiah 41:10. I fell back asleep with So do not fear running through my head and the feel of my mother's hand clenching mine.
The next time I woke up, we were on our way to my hospital room. My mom was still beside me and the nurse was chatting away. Later my mom told me what had happened.
When I woke up from anesthesia I was in a full blown panic, screaming and trying to stand up while nurses tried to keep me on the bed. When minutes passed with me still screaming and fighting to stand up, one of them decided to get my mom.
My mother started talking to me the second she stepped into the room and I slowly stopped thrashing. By the time she reached my bedside and touched my hand, I stopped screaming and was immediately at peace.
I didn't even know there were nurses touching me, trying to hold me down.
But I knew the second my mom's hand touched mine.
Throughout Scripture God is repeatedly described in terms of a mother.
In Isaiah 49:15 it says, "Can a mother forget her baby and have no compassion on the child she has born? Though she may forever, I will not forget you…"
In Isaiah 66:13 God says, "As a mother comforts her child so will I comfort you…"
In Deuteronomy 32:10-11 God is compared to a mother eagle.
In Hosea 12:8 He's compared to a mother bear.
In Matthew 23:37 Jesus uses the image of a mother hen to describe His care and compassion.
The list could go on but I'm sure you get the idea: The characteristics of a mother come directly from God Himself.
It's a part of Him—it's His compassion and nurturing heart and protectiveness that He chose to mirror in the hearts of mothers. As image-bearers, a mother reflects a distinct part of God's character.
And when I think of how God mothers us—I always come back to this story of my appendectomy. I think of the way my mom's voice and touch brought peace when I was blinded and petrified. I think of the way her nurture and care for me quieted my confusion and pain. I think of how all the nurses were trying to help and I didn't even know they were there—but when my mom showed up, I knew.
And I believe this is what God wants us to see when we look at Him. He longs and desires to reveal this part of His character to us.
He longs for it enough that He repeats it all throughout Scripture.
His heart, like the heart of a mother, is full of compassion and care for us. He longs to gather us in His arms. He longs for His presence to usher peace and quiet into our screaming. He longs for us to recognize His voice, His touch, His presence.
The reality is not all of us grew up with moms who brought peace into our chaos. For many, one of the sources of chaos and pain has been their mother. And for those who have experienced this, I truly believe God wants to redeem and heal this area. He wants to replace the agony with peace, the chaos with quiet, the fear with comfort and safety.
If you struggle to know this part of God's character—if the idea of God being a mother brings you questions and fear and unease—then I encourage you to ask Him to reveal this part of Himself to you. There is so much of who God is that is wrapped up in the character of motherhood. Don't allow the enemy to steal that from you forever. Let God heal and replace.
And for those of us who grew up with wonderful mothers—but have failed to recognize God as the ultimate giver of comfort and hope and nurturing safety—let's go to the Lord and ask for a revelation of this part of His character that our hearts will learn to know His voice and His touch in our hardest moments.
Lord, teach us to know you as mother. Teach us to recognize you're endless compassion. Teach us to accept your comfort. Teach us to lean into the peace you offer. Teach us to recognize your character in the hands and feet of the mothers around us.
And heal the hurts of those who have been harmed by the women who should have been reflecting you. Set them free from the bondage of their past experiences and release an anointing of your presence and an understanding of the depth of your compassion and care for them.